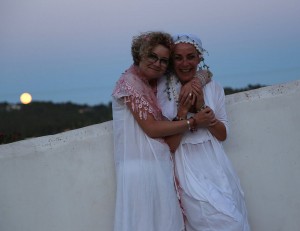 To date, the smallest wedding we have photographed on the island of Ibiza and what an absolute pleasure it was to be involved.
With only a party of four on the White Isle of Ibiza, this was the smallest wedding we have photographed. We were given the honour of locating the ceremonial spot and we chose the rocks overlooking the sea near Cala Martina. Everyone including myself were dressed in Ibiza whites.We had a short walk from the Camping and Bar Chirincana where the idyllic spot served us well for the delivery of the ceremony by Melchior, the co-owner of Nagai Restaurant on the Sant Joan road.
The small party then climbed into the VW Camper and headed over to Nagai for great Thai fusion cuisine. A brilliant get-together with only two witnesses. A quite unique day which will  undoubtedly serve them well for the rest of their lives. Thanks for getting us involved in such an intimate gathering.
Both the chiringuito in Cala Martina and Nagai restaurant we can highly recommend. We photograph the very smallest to the largest celebrations. Please ask for a tailored quote for any celebrations often people and less. We will be happy to supply this upon request.