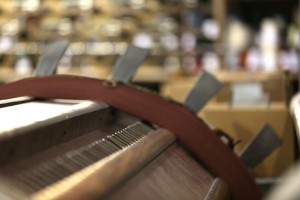 Joshua Ellis
Joshua Ellis is a company which manufactures quality cashmere for high end clients. Bottega Veneta and Aston Martin are two such clients. Soon to be uploaded to our personal project in our portfolio section, the craftsmen and women who produce the finest cashmere in the UK.
Personal projects are an integral part of a photographers portfolio which allow experimentation with lighting, environment and subject. This week I have been at Joshua Ellis in the north of England. A company which is celebrating two hundred and fifty years in business for manufacturing cashmere and wool for the clothing industry.
The company still uses old wooden looms to manufacture the cloth. The technicians have also been with the business many years. Some have over thirty years service so these people really know how to treat the cloth. Sadly, fewer and fewer cloth manufacturers are losing ground to cheaper labour in other parts of the world. Who knows where the market will lead this business. I hope this is not lost anytime soon.
Joshia Ellis is a jewel in the crown for the clothing industry. Long may it continue to supply some of the leading global brands. An here from it's nase in West Yorkshire.