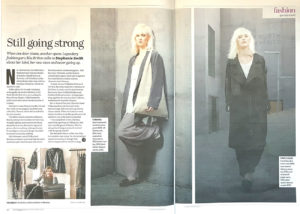 Fashion Supplements
Last week we received several copies from the publishers from our recent fashion shoot from The Hepworth in Wakefield. Fashion photography is one of the two specialisms we are commissioned for. Wedding photography being our other. We think these two disciplines work perfectly together because they are not dissimilar.
Our commissioning brides go through similar preparations to a model before their wedding ceremony. The wedding dress has been carefully chosen. The make up and hair have been discussed prior to the wedding day to get the look exactly right. We also make sure we are fully prepared with our locations before both a wedding and fashion shoot. A recce (which is the abbreviation of reconnaissance) is done before every shoot. This allows any lighting issues to be considered, if we are photographing the bride on her own or with her husband. It allows the shoot to be executed as quickly as possible so they can return to their guests to enjoy their day.
Wedding Portraits
Although the majority of the photographs will be taken in a reportage style at a wedding, this should not mean the photographer should not engage with guests at appropriate times. There will be times throughout the day when guests will want to engage with the photographer. It is here that preparation is vital. Good photographs can be captured if photographers do their preparation..
With portable lighting and good locations, there can be key times during a wedding where exceptional portraits can be taken of the bride and the couple. These crucial times should be taken advantage of. We are confident that these photographs will be valued equally or more than the reportage photographs. With our experience in the fashion industry we can make these wedding portraits really shine and get the very best from the bride on the day.
http://www.yorkshirepost.co.uk/lifestyle/fashion/yorkshire-s-dedicated-leader-of-fashion-1-8421854