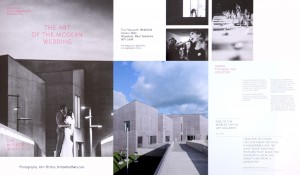 The Hepworth
The Times have described The Hepworth as one of the top fifty galleries in the world. They are opening the space to wedding couples and we are the gallery's accredited photographer. After photographing the space a number of times for various fashion shoots they have very kindly asked us to be the photographers who should be recommended for any customers wishing to tie the knot here.
The architecture is contemporary and cutting edge. Designed by David Chipperfield it stands alone in the city of Wakefield. Often used as a backdrop for our fashion shoots, the warm granite rises from the bank of the River Aire. To photograph people here is an honour and to photograph weddings, the area of photography we are passionate about, is an even greater pleasure. We are therefore excited to be part of the team here at The Hepworth.
Any customers are welcome to use the indoor and outdoor areas for photography. To photograph anyone's wedding story here alongside some of the best sculptors in the world, will make for unique and powerful wedding photography.
To see the architecture and gallery click on the link below to see how you could picture your own wedding here in some breathtaking surroundings;
https://hepworthwakefield.org/